There was a time in Thailand when anything could be ordered. Now there are plenty of limitations on design and size. Most goldsmiths will refuse to make a one Baht chain and others simply can not make classic designs that once were very common. Times are changing...fast. Now is the time to consider a purchase. Price is currently $875.00 per Baht (15.16 grams) as of November 2018. Must read NEW Customer comments here
Email us for most recent price & any questions you have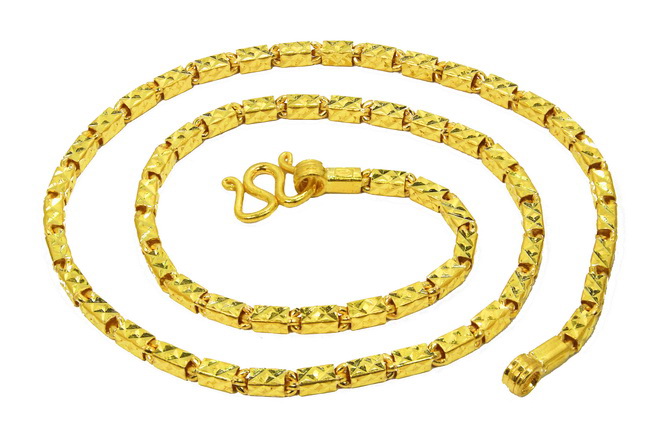 VOTED #1 96.5% GOLD CHAIN 2018!!
26", 6 Baht, XX diamond cut, 4.8 mm link width
Our customers say the most interesting things! See latest comments here
Purchasing Considerations:
| | |
| --- | --- |
| | 18 Years Selling Thai Baht Gold On-line from Thailand. |
| | US Dollar/Thai Baht at most favorable exchange rates. |
| | Most experienced goldsmiths in Thailand make your one-of-a-kind item |
| | All G.S.P. Documentation provided. |
| | We guarantee gold purity and offer a Life Time return. |
| | We are Americans so we speak real good English! |
January 2019
When you're shopping for a 96.5% gold chain in Bangkok there are two significant factors that affect price. They are the current spot price of gold and the US Dollar to Thai Baht currency exchange rate. Right now the US Dollar is weakening and the gold price is up 2.6% for the month. So we have raised our prices accordingly. Look for higher gold prices in 2019.
November 2018
It appears the rains of the monsoon season have subsided and we now look forward to cooler temperatures in Bangkok. Spot gold prices have increased everyday for the past 10 days. We expect much higher gold prices should the US economy weakens at all. The economic boom has been the longest in history so be prepared. Smart to add high karat gold to your portfolio now. A wearable investment!
October 2018
Monsoon rains are in full swing now so the typical 1 hour trip to China town is taking two hours! And I live in Bangkok! Gold is at a multi month low right now but the US Dollar is weaker so the price of gold is roughly the same as it was a month ago. Had some Margaritas with Andy on his return visit to Bangkok and am now putting together my next You Tube video on some of the amazing customer jewelry purchased this month.
August 2018
Great time to buy Thai Baht gold as the prices are lower and the US Dollar exchange rate is favorable. We have already lowered our prices to stimulate sales.
We have added several new designs in the chain and bracelet categories. Andy's coming back for a visit in Sept so perhaps we can get another interview! Search You Tube under the name of "pryortuck" to bring up all of our videos!
July 2018
We have found a source for exquisitely crafted 24K gold chains and we will be offering these 99.99% chains in a few link styles soon. We have received a reorder from a large jewelry chain in the East coast of the United States and we will be offering several of their best selling items on a page soon. Make sure you contact me on the current price...gold is in a volatile stage right now as the gold price and the US dollar exchange rate are fluctuating.
March 2018
On March 23, 2018, the President signed legislation to renew the GSP program through December 31, 2020. While legislation to renew GSP was enacted on March 23rd, the effective date of renewal is April 22, 2018.
GSP-eligible entries will enter the U.S. duty-free on, and after, April 22, 2018. Because the GSP program's renewal is retroactive, importers may seek refunds of duties paid during the lapse of GSP authorization. In accordance with U.S. Customs and Border Protection (CBP) instructions, importers who marked their GSP-eligible articles after January 1, 2018, with the applicable special program indicator (SPI) for GSP ("A" or "A+") will receive automatic duty refunds without interest.
In addition, for GSP-eligible articles that entered the United States during the lapse of GSP authorization without SPI code "A", importers may request a GSP duty refund request to CBP.
To receive a GSP duty refund, an importer has to file a request by October 19, 2018.
February 2018
The US Dollar has lost 3.9% of it's value here since the beginning of 2018 and this has impacted the price of gold jewelry for American buyers somewhat. Fortunately, the price of gold is still low and compensates for the weaker US Dollar. Our custom order prices are the lowest on the Internet and will remain the best value for your purchase of a Thai gold Baht chain.
January 2018
A wonderful new year to look forward to! We plan on a lot of travel to exotic locations this year...if our staff lets us take a break from our animal shelter for a week or so! Say goodbye to the GSP...for now. The GSP (Generalized System of Preferences) expired on December 31st and will need to be reinstated by the US Congress and signed by the President in order for our Thai Baht gold chains to remain "DUTY FREE" when imported into the United States. This agreement with Thailand has been in affect since 1974 and has been extended every year since then. When it is extended in 2018 and considering it's retroactive, any duty paid for gold chains prior to reinstatement is refunded. The harmonized code of A-7113-1925 indicates GSP eligibility.
If you can navigate around all of this info you should take into consideration the sheer beauty and value of the Thai Baht gold chains and bracelets. Still hand made of 96.5% pure gold and truly one of the best gold jewelry values in the world today.
For a personal email reply within 24 hours contact me at: pryortuck@hotmail.com