There was a time in Thailand when anything could be ordered. Now there are plenty of limitations on design and size. Most goldsmiths will refuse to make a one Baht chain and others simply can not make classic designs that once were very common. Times are changing...fast. Now is the time to consider a purchase. Price is currently $820.00 per Baht (15.16 grams) as of mid December 2017.
Email us for the latest price!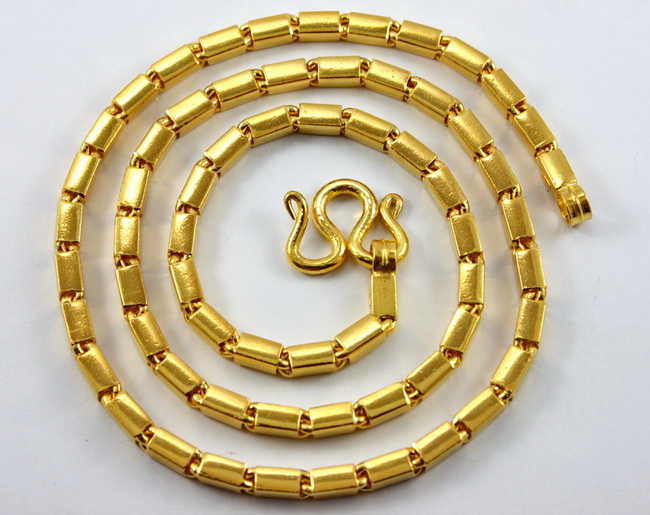 Customer Comment:
Thank you Thomas for the 6 Baht, 23 inch aviator chain. I love it. You can't find gold in this purity, color, design here in the U.S.. I've always wanted a nice unique gold chain in pure gold and you delivered. Smooth transaction, great contact throughout the process. I don't know why anyone would settle for used jewelry when you can order what you want the way you want it. I'm so glad I found 23kgold.com. God bless you and your family.
William Wheat, Santa Fe, NM.
See our other customer comments here
Check out our new You Tube channel here: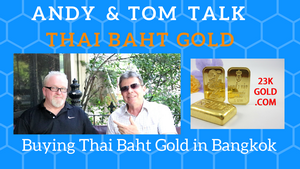 December 2017
Looks like we're going to end the year with gold prices lower and Bitcoin prices much higher! What a world we live in! No where in the world can you purchase high karat gold jewelry with this degree of detail and high level of workmanship for the price asked for by the Thai goldsmith. These uncelebrated people often work behind a jewelers bench during the dry season and in water up to their knees during the wet season as they plant the rice fields in rural Thailand.
October 2017
To learn more about Thai Baht gold in general please visit our You Tube channel. I have put together several videos to try to help you understand the specifics about purchasing Thai Baht gold from Thailand. You can easily engage with us on You tube and ask questions about the process and the things to watch out for if in Thailand looking for your first Baht gold chain. We hope you will subscribe to our channel and stay informed of our new products and updated information.
August, 2017
So the prices are being driven up by a weaker dollar for the most part but increased labor cost to make the chains is also a factor. I still get emails quoting to me the current spot price of gold and determining the gold value of the item the customer wants a price on! Stop it! This is no longer 1968 and the Thai Baht gold jewelry should not be considered an item in which it's price is somehow generated by the spot price of gold. In the same vein, Thai Baht gold should not be looked at as such a great investment decision. The premium paid for Baht gold these days is in the form of higher labor, acquisition cost, transaction fees and even a new VAT (value added tax). Add to this a speculative currency exchange rate and an on again, off again duty free treatment by US Customs of G.S.P. imported goods (Generalized System of Preferences) adds to the NEW cost of Thai Baht gold.
If you can navigate around all of this info you should take into consideration the sheer beauty and value of the Thai Baht gold chains and bracelets. Still hand made of 96.5% pure gold and truly one of the best gold jewelry values in the world today.
For an Email reply within 24 hours contact us at: pryortuck@hotmail.com
Purchasing Considerations:
| | |
| --- | --- |
| | 18 Years Selling Thai Baht Gold On-line from Thailand |
| | US Dollar/Thai Baht at favorable exchange rates |
| | Most experienced goldsmiths in Thailand |
| | All G.S.P. Documentation provided |
| | We guarantee gold purity and exact final price |
| | We are Americans so we speak real good English! |
Through the years of selling Thai "Baht" gold on the Internet our business has evolved into more customized hand-made jewelry. Our first Baht chain sold on Ebay in 1999 for $175.
Today our solid 96.5% gold chains sell for about 880 USD per Baht!...And it seems the price of gold will only be going higher in the years ahead!
Since we are based in Thailand our overhead is relatively low . We are confident that we can offer the most competitive price for Thai Baht gold you will find on the Internet. Please consider us when deciding on your purchase of Thai Baht gold jewelry.
We appreciate your business,
Tom & Pat Pryor