THAI SOLID GOLD EARRINGS
---
Solid 75% Gold (18 karat) Bracelets
All earrings are handmade
The best workmanship Thailand has to offer
Since 1999
Home/Chains/Bracelets/Thai Amulets/Clasps
Contact
Ordering Info
About Us
Solid 18K gold earrings direct from Thailand!
Take advantage of the new lower gold prices and favorable U.S. Dollar exchange rate in Thailand right now and own true solid18K gold (75% pure) hand-made Thai earrings. The traditional low labor cost in Thailand coupled with our very low profit margin on each pair of earrings creates an outstanding value for this extremely high level of workmanship in luxurious high karat gold.
We have only one earring of each style and design presented here. If sold we most likely will not have the same design again.
We have over ten years of experience selling high Karat gold from Thailand and fully guarantee your satisfaction with our product.
We offer FREE FedEx shipping on all earrings over $100.00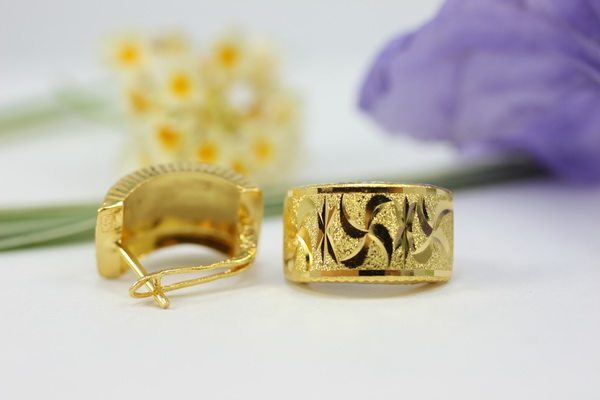 E-101 Solid 18K gold locking lever-back Thai style earrings. Exquisite diamond cut, textured face. These earrings are completely hand-made. Weight is 1.7 grams, Diameter: 1/2" and the width of the face is 8 mm. Price is currently $172.00!
| | |
| --- | --- |
| | |
| E-102 Solid 18K gold diamond-cut Thai style beaded hoop earrings. Exquisite diamond cut. All hand-made and the beads rotate. Weight is 2.2 grams, Diameter: 1" and the center bead is 4.5 mm. Price is currently $188.00 | E-103 Solid 18K gold beautifully diamond-cut hoop earrings. Exquisite diamond-cut Thai style and completely hand-made. Weight is 2.5 grams, Diameter: 1/2" and the width of the face is 8 mm. Price is currently $195.00 |
| | |
| E-104 Solid 18K gold lever-back Thai style earrings. Amazing diamond-cut, design with textured face and drop ball. These earrings are completely hand-made. Weight is 2.6 grams, Length: 7/8" and the width of the face is 9 mm (3/8"). Price is currently $205.00 | SOLD |
| | |
| E-106 Solid 18K gold Thai hoop style earrings. Classic diamond-cut, finish These earrings are completely hand-made. Weight is 1.6 grams, Length: 1" and the width of the face is 1/8". Price is currently $178.00 | E-107 Pure 18K gold wire hoop style earrings. Exquisite diamond cut finish. These earrings are completely hand-made. Weight is 2.1grams, Diameter: 1 1/2" The width is 1.6 mm. Price is currently $185.00 |
| | |
| E-107 Solid 18K gold hook style dangling diamond-cut ball. Exquisite detail with textured face and highly polished small beads. Completely hand-made. Weight is 1.3 grams, Length: 1" and the bead diameter is 7.7 mm. Price is currently $158.00 | E-108 Solid 18K gold hook dangling heart earrings. Exquisite diamond cut, textured face these earrings are completely hand-made. Weight is 1.8 grams, Length: 1" and the width of the face is 3/8". Price is currently $175.00 |
| | |
| E-109 Solid 18K gold. Highly polished 8 mm flat back stud earrings. Simple elegant and comfortable to wear. Completely hand-made. Weight is .8 grams. Price is currently $79.00 Includes Free Standard Shipping by Thailand Post | E-110 Solid 18K gold 6.2 mm diamond-cut stud earring. Exquisite diamond cut, textured face these earrings are completely hand-made. Weight is .8 gram. Price is currently $76.00 Includes Free Standard Shipping via Thailand post |
| | |
| E-111 Solid 18K gold multi-beaded hoop earrings. Each rotating bead is diamond-cut and highly polished. diamond cut. Completely hand-made. Weight is 2.5 grams, Hoop diameter is 1 1/8" and the center bead is 4.5 mm. Price is currently $195.00 | E-112 Solid 18K gold locking lever-back Thai style earrings. Exquisite diamond with s beautifully textured face Completely hand-made. Weight is 2.1 grams, Diameter: 3/4" and the width of the face is 1/2". Price is currently $185.00 |
| | |
| E-113 Solid 18K gold 4 gram 2 inch wire hoop earrings. Impressive diamond cut finish. Completely hand-made. Weight is 4 grams, Diameter: 2" and the width of the face is 1.9 mm. Price is currently $253.00 | SOLD May 20, 2015 |
| | |
| E-115 Solid 18K gold hoop earrings. Stunning diamond-cut, textured face and completely hand-made. Weight is 2.1 grams. Diameter is 3/4" and the width of the face is 1/2". Price is currently $185.00 | SOLD May 21, 2015 |
Home/Chains/Bracelets/Thai Amulets/Clasps
Tags: solid gold, 18K gold, Thai style, gold earrings, pure 18K gold earrings, hand-made, Made in Thailand, 75% pure gold, diamond-cut, hoops, lever-backs, huggies, stud, dangling, hook, lever-back-drop, low labor, wholesale available,Thai gold jewelry