THAI SOLID GOLD EARRINGS
---
Solid 75% Gold (18 karat) earrings
All earrings are handmade
The best workmanship Thailand has to offer
Since 1999
Home/Chains/Bracelets/Thai Amulets/Clasps
Solid 18K gold earrings direct from Thailand!
Take advantage of the new lower gold prices and favorable U.S. Dollar exchange rate in Thailand right now and own true solid18K gold (75% pure) hand-made Thai earrings. The traditional low labor cost in Thailand coupled with our very low profit margin on each pair of earrings creates an outstanding value for this extremely high level of workmanship in luxurious high karat gold.
We have only one earring of each style and design presented here. If sold we most likely will not have the exact same design again.
We have over 16 years of experience selling high Karat gold from Thailand and fully guarantee the workmanship and purity of our product.
FedEx shipping is required on all earring purchases over $200.00 or at your discretion at $45.00 per package. Other earrings will ship via Thailand Post for no charge and will have a tracking number.
Information on You Tube about how we buy 18k gold earrings in Bangkok.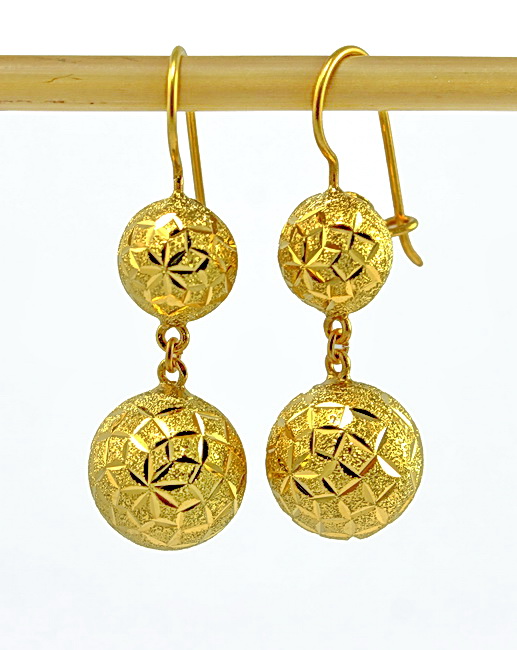 E-100 Solid 18K gold drop bead hook with safety Thai style earrings. Exquisite diamond cut, textured finish. These earrings are completely hand-made. Weight is 2.5 grams, Diameter of beads: 9.7 mm and 7.4 mm. Length is 1 1/8" from top of hoop to the bottom of the bead. Price is currently $250.00 Now $190.00! IN STOCK. (These earrings cost more per gram than the others because they were purchased by piece instead of by weight).
E-113 Solid 23k gold (96.5%) butterfly earrings. A heavy 5 grams total weight. Completely handmade.
Price $400.00 Free Shipping via FedEx
| | |
| --- | --- |
| | |
| E-111 18K Diamond cut, textured finish solid 18k gold lever-back earrings. These earrings are completely hand-made. Weight is 2.2 grams, Diameter is 5/8". Width is 3/8". Price is currently $220.00 Now $165.00 IN STOCK. | E-112 18K Diamond cut, textured finish solid 18k gold lever-back earrings. These earrings are completely hand-made. Weight is 2.7 grams, Diameter is 5/8" Width is 11 mm. Price is currently $235.00 Now $185.00 IN STOCK. |
| | |
| --- | --- |
| | |
| E-109 18K Diamond cut, textured finish solid 18k gold lever-back earrings. These earrings are completely hand-made. Weight is 2.2 grams, Diameter is 5/8" dimameter. Price is currently $205.00 Now $158.00 IN STOCK. | E-110 Solid 18K gold diamond cut with textured accents. These earrings are completely hand-made in Thailand. Weight is 2.2 grams, Diameter is 5/8". Price is currently $205.00 Now $158.00 IN STOCK. |
| | |
| --- | --- |
| | |
| E-107 18K diamond cut hoops. These hoop earrings are completely hand-made in Thailand. Weight is 2 grams, Diameter :1 1/8" The face is 4.9 mm. Price is currently $190.00 Now $145.00 IN STOCK. | E-108 18K gold diamond cut hoop earrings. These earrings are completely hand-made here in Thailand. Weight is 2 grams, Diameter :1 1/8" The face is 4.8 mm. Price is currently $190.00 Now $145.00 OUT OF STOCK. |
| | |
| | |
| --- | --- |
| | |
| E-105 18K gold beaded hoop Thai style earrings. These earrings are completely hand-made. Weight is 2 grams, Diameter :1" The rotating center bead is 4.4 mm. Price is currently $190.00 Now $145.00 IN STOCK. | E-106 Wire Hoops in 18k gold. Exquisite detail in these diamond cut 2" diameter hoop earrings. Completely hand-made. Weight is a substantial 4.1 grams. Price is currently $360.00 Now $285.00 OUT OF STOCK. |
| | |
| E-103 Textured finish with diamond cuts are the highlights of these solid 1.4 gram hook earrings. The hooks have a locking feature that will prevent loss. The heart is a 1 cm wide and the length is 1". Completely hand-made. Price is currently $124.00 IN STOCK | E-104 Solid 18K gold. Highly polished and luster finish Thai design. These small hook earrings are only 1 gram in weight and 7/8" long. The main diamond cut bead is 6.5 mm in size. A wonderful gift for young women. Completely hand-made. Price is currently $88.00 Includes Free Standard Shipping by Thailand Post IN STOCK |
| | |
| E-101 Solid 18k gold Lever-back earrings. Textured and diamond cut accents highlight this earring design from Thailand. Weight is 2.2 grams. Size is 5/8" diameter by 3/8" width of earrings face. Very smooth operating lever back. Outstanding value for solid 18k gold. Price is currently $205.00 Now $158.00 IN STOCK. | E-102 These 2.2 gram 18k gold diamond cut hoops are 1.5" in Diameter and 1.7 mm in thickness. Diamonds cut accents really reflect light and create a dazzling effect. Sturdy wires and very comfortable to wear. 75% pure gold and is considered hypoallergenic. Price is currently $205.00 Now $158.00 IN STOCK. |
| | |
| | |
| M-100 Don't spend a fortune for a new clasp! Solid18K gold. Hand made Thai "M" clasp for use with a Baht chain. This one is in stock and weighs 1.5 grams so it's suitable for 1-2 Baht chain. Price is currently $125.00 Includes Free Standard Shipping by Thailand Post. Best Price You Will Find! For other clasp weights see our Thai Baht Clasp page | N-101 Solid 18K gold. Hand made Thai "N" clasp for use with a Baht bracelet. This one is in stock and weighs 1.5 grams so it's suitable for 1-2 Baht bracelet. Price is currently $125.00 Includes Free Standard Shipping by Thailand Post. Best Price You Will Find! For other clasp weights see our Thai Baht Clasp page |
Home/Chains/Bracelets/Thai Amulets/Clasps
sales@23kgold.com (for the quickest response)
Tags: solid gold, 18K gold, Thai style, gold earrings, pure 18K gold earrings, hand-made, Made in Thailand, 75% pure gold, diamond-cut, hoops, lever-backs, huggies, stud, dangling, hook, lever-back-drop, low labor, wholesale available, Thai gold jewelry