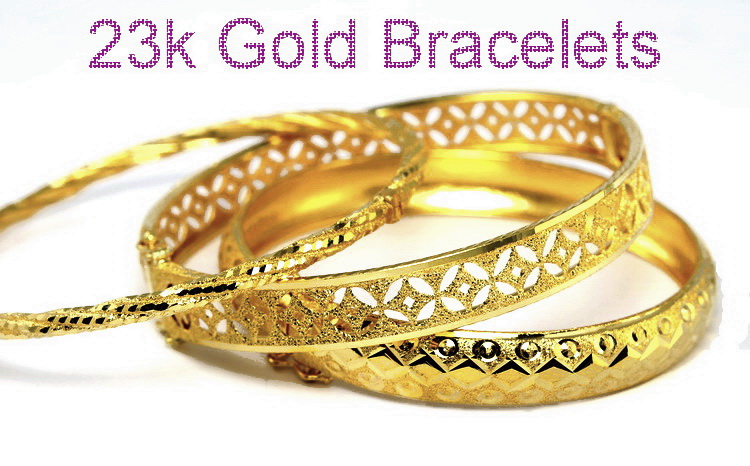 Solid 96.5% Gold (23k) Thai Bracelets
Each one is custom made for you
Workmanship is the best Thailand has to offer
Priced as much as 50% less than in the US
We have been selling online since 1999
Home/Chains/Bracelets/Earrings/Buddha Amulets/Clasps
Our one Baht or less bracelets
1 Baht = 15.16 grams
1/2 Baht = 7.6 grams
Contact me at sales@23kgold.com for current pricing and availability
B1877 Classic Figaro Bracelet is completely hand made of 23k gold (96.5%). Not a fragile bracelet.The workmanship is extraordinary. The finish is highly polished on one side and diamond cut on the reverse. The length of this bracelet is 7" and the width is 7.2 mm.

It's in stock and ready to ship. Price $850.00 (please contact us and we can confirm the price and send you a PayPal money request)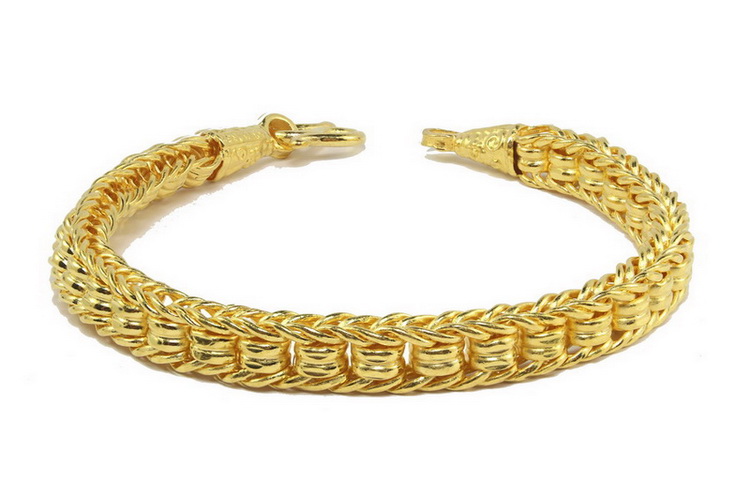 B1878 Amazing one Baht thick wire bracelet. Bracelet is completely hand made of 23k gold (96.5%). Not a fragile bracelet. Strong wire braiding.The workmanship is extraordinary. The finish is highly polished. The length of this bracelet is 6 5/8" and the link diameter is 6.4 mm.

W

e don't know if it can be ordered longer without altering the wire diameter. Link width is

It's in stock and ready to ship. Price $895.00 (but please contact us for current price)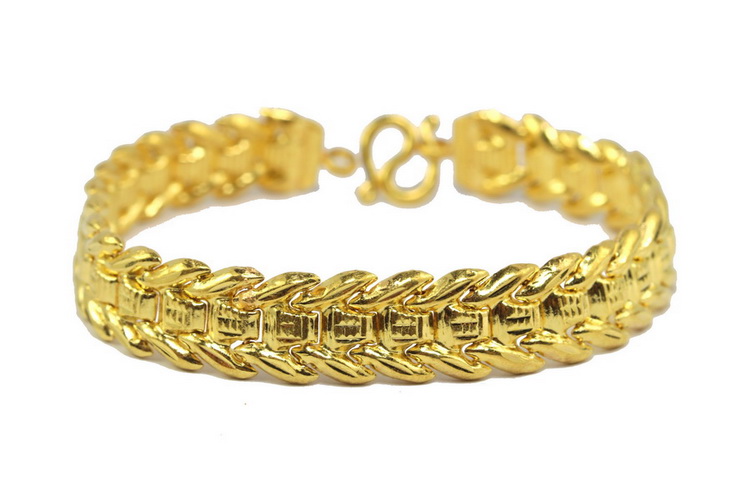 B1877 This lovely one Baht Link bracelet is completely hand made of 23k gold (96.5%). It is popular with Thai women here due to it's strong links. The workmanship is exceptional. The finish is highly polished. The length of this bracelet is 6 7/8" but this design can easily be made to the 7 1/4" length The width is 3/8" (9.5 mm). It's in stock and ready to ship. Price $895.00 (but please contact us for current price)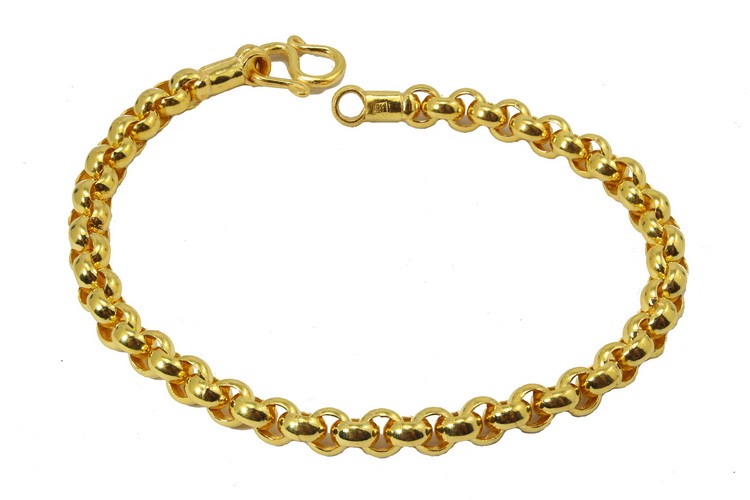 B1876 This one Baht Rolo Link is completely hand made of 23k gold (96.5%). The workmanship is exceptional. The finish is highly polished. The length of this bracelet is 7" and the link diameter is 5.2 mm. It's in stock and ready to ship. Price $895.00 (but please contact us for current price)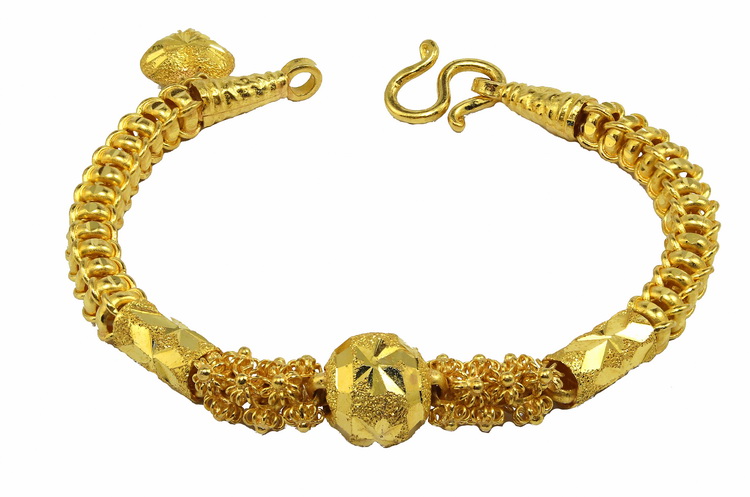 B1875 This one Baht "Picun" mix is an exotic blend of various link styles and completely hand made of 23k gold (96.5%). The intricacy of the design is unique depicts some of the most classic link designs from the classic Thai Baht bracelets. This bracelet is one of a kind and the length is 6 3/8". It's in stock and ready to ship. Price $895.00 SOLD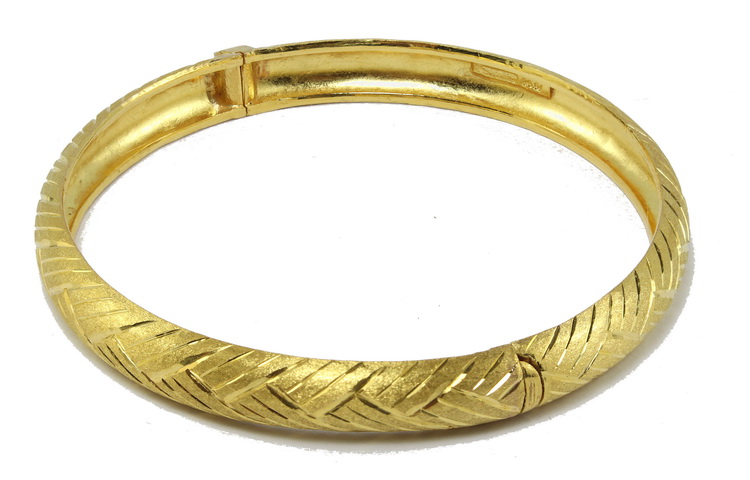 B1874 Solid 23k gold (96.5%) diamond cut one Baht bangle bracelet with a textured finish. Easy to operate closure. Extraordinary workmanship on this light one Baht bangle. Currently in stock and ready to ship via FedEx.

Price $890.00 (but please contact us for current price)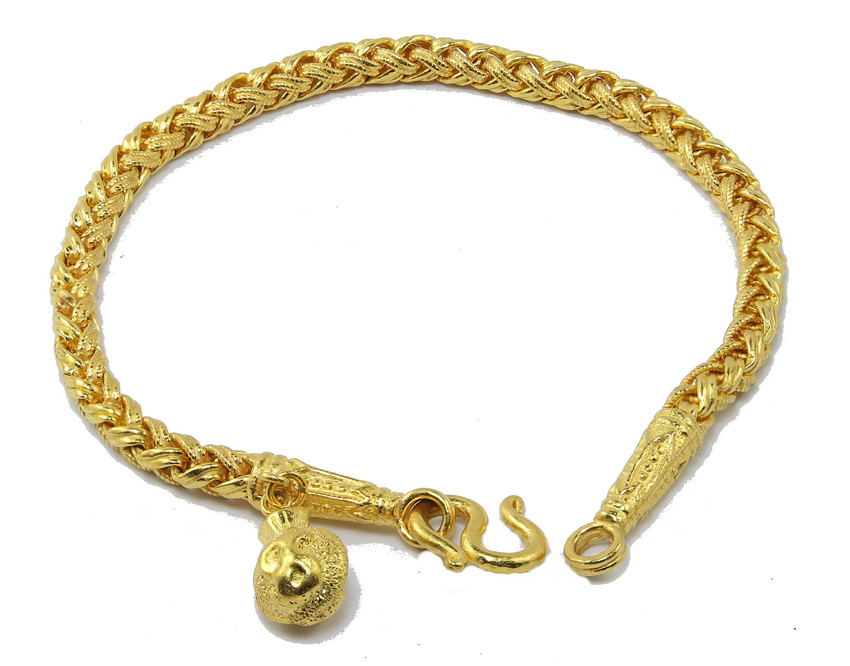 B1873 Called "Cee Sow" in Thai, this is a magnificent example of solid core wire hand braiding. Feels very dense to the touch even in light weights like this 1 Baht as shown. Solid 23k (96.5%) gold and hallmarked accordingly. Available with either this charm or a heart. If you like the larger braid compared to the "Hoc Sow" this one is for you. You can order in any length and weight from 1 Baht up. This bracelet is 6 3/4" in length and is in stock for immediate shipping via FedEx. Price $890.00 (but please contact us for current price)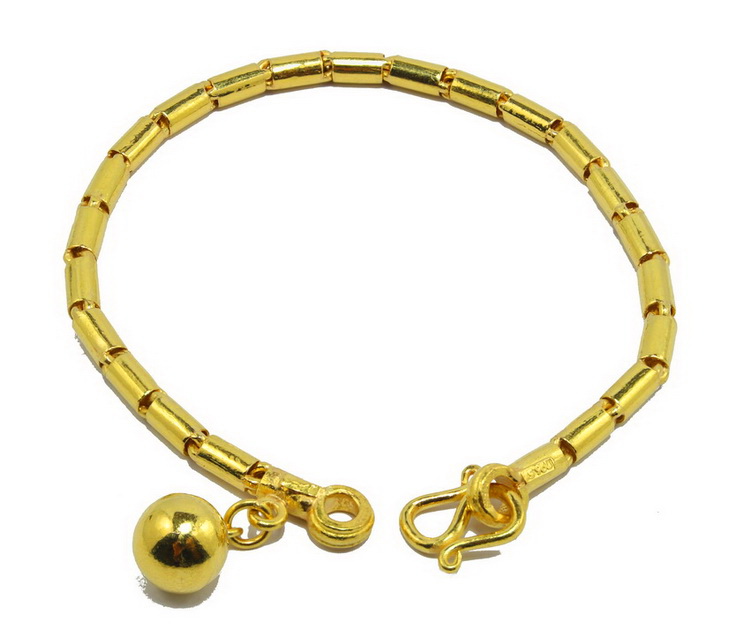 B1872 Barrel link bracelet with ball charm

This classic Thai style barrel link bracelet is strongly popular with women in the 1-2 Baht weight and with men in the heavier weights. The above bracelet is a 1 Baht and 7 1/2" in length and comes with a highly polished ball charm. It's available in any weight and length. Order Now!
Our two Baht and over bracelets
2 Baht = 30.32 grams
3 Baht = 45.48 grams
4 Baht = 60.64 grams
5 Baht = 75.80 grams
10 Baht = 151.60 grams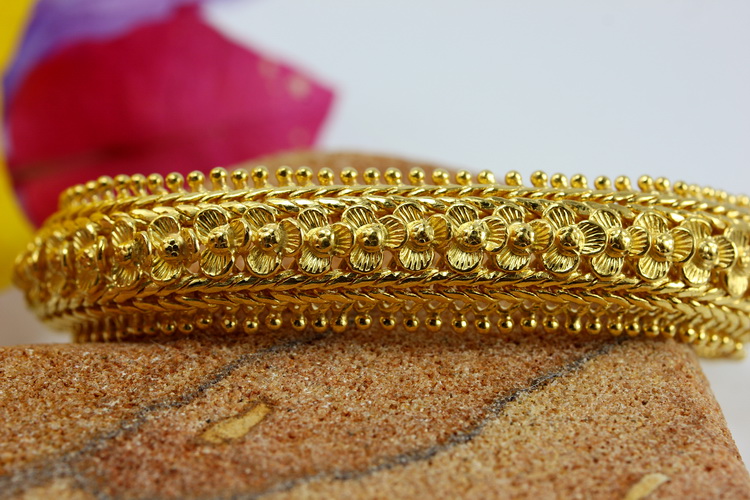 B1871 Astonishing handmade Detail!
3 Baht (45.48 grams) Handmade solid 23k (96.5%) gold bracelet. In stock. Includes FedEx Shipping/Full Insurance.
B1870 Stunning double hand braided bracelet
3 Baht "Hoc Sow" Enameled braided rope bracelet. 6 3/4 in length. Extraordinary design and detail with a very dense weave. 8 mm wide bracelet made of solid-core 23k gold hand-pulled wire.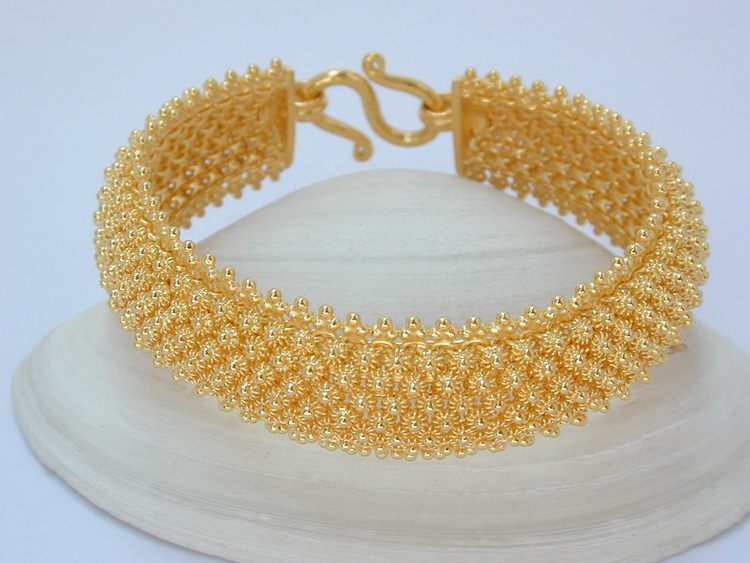 B1869 Thai "Picun" pronounced "PEE KUNE"
The most detailed, labor intensive solid 23k gold bracelet available from the magnificent goldsmiths of Thailand. Each bead that makes up the "Picun" design is hand-made. This photo above is of a 5-Baht bracelet. 2,3,4 Baht weights are also available but the width of the bracelet is reduced. Also there is a round version. The above bracelet was $4375.00 when purchased but please contact us for the current price.